Our alumni are an integral part of the school.
Are you an alumnus? Keep the connection going by attending school events, such as colloquia, Homecoming and Open Door.
For more information about opportunities and resources for alumni, please visit ASU's alumni web site. For school news, follow us on social media (including Twitter, Instagram and Youtube), or subscribe to our weekly newsletter, 'SGSUP's On the Map.'
How else can you stay involved?
Be a guest speaker in a class
Set up an internship and work with our current students
Participate in one of our annual career fairs
Make a financial donation
If you are interested in any of these opportunities, please contact us today!
Alumni Spotlight
Elizabeth Tellman, Geography PhD
Since earning her PhD in geography, Elizabeth Tellman has been busy expanding her impressive research portfolio. In August 2021, her work on using satellite data to better understand the impact and changing nature of flooding was featured on the cover of Nature. The study, "Satellite imaging reveals increased proportion of population exposed to floods" analyzed 913 large flood events around the world to evaluate flood extent and population exposure.
"Satellites help us see flood impact in new ways that models don't capture well," said Tellman, who now is an assistant professor at the University of Arizona. "We should continue to integrate satellite observations into our understanding of where it has flooded or is currently flooding."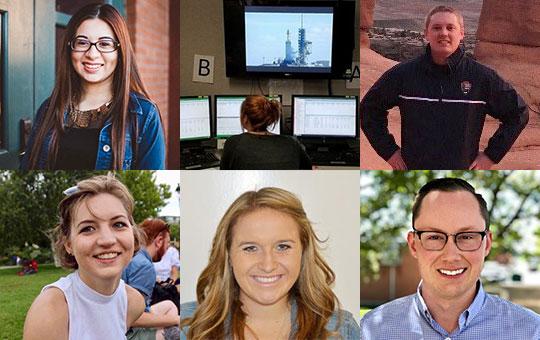 Read short profiles of some of our alumni, as well as their insights on their studies and their careers