The

Planning Project Showcase

includes examples of projects involving urban planning students, including planning workshops, applied projects and thesis work.
MUEP Planning Workshop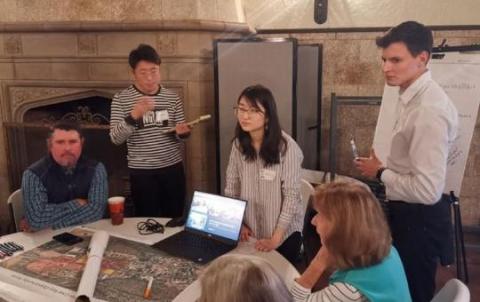 One of the culminating experience options for students in the Master of Urban and Environmental Planning (MUEP) program is PUP 580 - Planning Workshop. The workshop immerses students in a real-world planning context to provide an integrative academic and professional experience.
Working as a team, students define the problem scope and apply appropriate methodologies to identify a solution or recommendations.
The final products for the course typically consist of a professional report and presentation. Read more about our past workshops:
MUEP Thesis and Applied Projects
Students in the Master of Urban and Environmental Planning (MUEP) program also have the option to complete an individualized project as their culminating experience. They can choose to participate in PUP 593 Applied Project or PUP 599 Master's Thesis.
The master's thesis is an extensive piece of original research that demonstrates the capability of the student to act as an independent scholar.
The applied project involves the application of advanced planning methodologies to a specific, real-world planning problem and is prepared for a planning-related organization (the client).
Please feel free to explore the below projects to learn more about the work of our students: