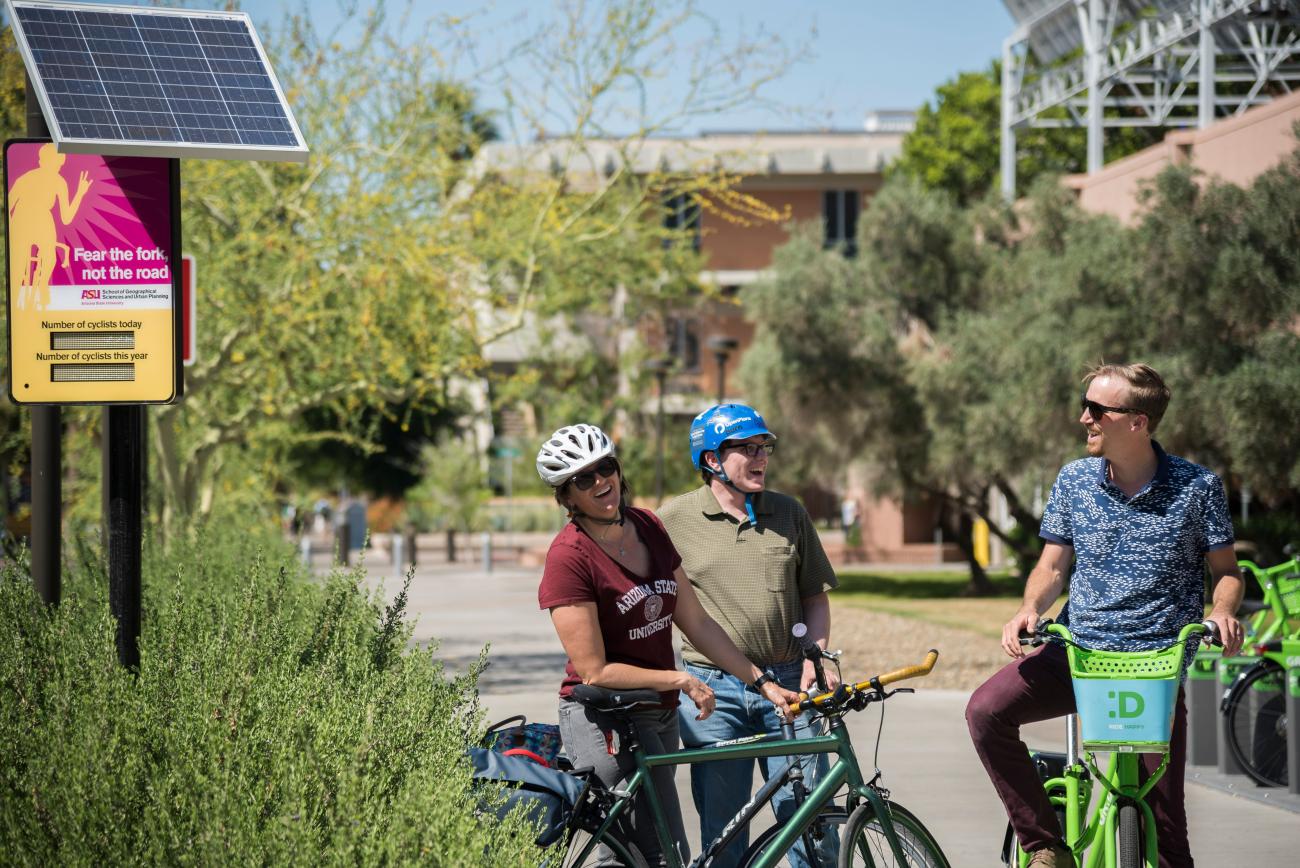 Graduate Programs with the School of Geographical Sciences and Urban Planning
The world's most pressing challenges have met their match. At Arizona State University's School of Geographical Sciences and Urban Planning, we are tackling significant environmental and societal issues, including climate, water resource management, disaster relief, housing and community development, renewable energy and sustainable growth. Join us and you will be joining one of the leading institutions, recognized nationally and internationally for our graduate programs and esteemed faculty.
Graduate Student Opportunities
Degree and Certificate Options
We have a program to fit not only your needs but also your goals. Whether you are looking to continue your research in a doctoral program or if you are looking to gain important skills to enter the booming job market, we have degrees and certificates to help. The GRE is not required for admission to any of our graduate programs.
Research-based graduate degree programs
Professional graduate degree programs
Certificates
Enhance your education with a graduate certificate in transdisciplinary transportation studies, geographic information science, or social science research methods. Flexible plans of study allow you to craft an experience that fits your professional and academic goals.
Financial support
Finding the funds to pay for your education is important. Our school offers a variety of funding options for select students. Arizona State University also offers a variety of scholarships. See below for some of the funding options available:

State-of-the-art Research Centers
Our school is home to three research centers that are making impacts in research and the community. Graduate students have the opportunity to work alongside our esteemed faculty researchers as they make discoveries and create solutions.
Points of pride
Job placement for professional programs
73% for Master of Urban and Environmental Program graduates
95% for Master of Advanced Study in Geographic Information Systems graduates
Small class sizes
Receive one-on-one attention with our 6:1 student-to-faculty classroom ratio
Scholarly impact
During the 2017-2018 and 2018-19 academic years, our doctoral students produced 69 publications as 1st or 2nd authors and participated in 111 conference presentations
Grants
Our doctoral students earned over $1.3 million in fellowships, awards and grants during the 2017-2018 and 2018-19 academic years
Our research
Our faculty and students are making a difference. They are researching the complex issues facing our society with the goal of making the world a more resilient and sustainable place. While our research interests are broad, many of them fall within these research areas:
Take the next step
This is just a quick glimpse into the amazing work happening at the School of Geographical Sciences and Urban Planning and the opportunities available to help you navigate the world and plan the future. We would love the opportunity to connect with you to learn more about you and your interests. Please feel free to email us at any time at sgsup.gradprograms@asu.edu, our dedicated graduate programs staff are happy to answer any questions you may have about our available programs, the application process, and what you can expect when joining our school.